Review: Football Manager Handheld 2012 (iOS)
The annual release for the 2011/2012 season, Football Manager Handheld 2012 largely continues the good work of last year's app – one of the most popular releases. Sports Interactive have extended original features and added new ones, while keeping it unique from the PC and PSP versions.
SI have listened to feedback from fans over the past year and taken requested additions into account – users can now design their own formations, players are motivated by club reputation as well as money, as well as having a wider range of reactions and situations to place you in. Too little (or too much) success can lead to players wanting 'a new challenge'. A 17-year old with good stats can no longer be thrown straight into first team football until they gain added maturity through experience, a situation used exceptionally
well on younger keepers such as those playing for Arsenal and Manchester United.
Football Manager 2012 also features special scenarios, such as the exceptional injury crisis – jump straight into the January transfer window with just 12 fit players, a disappointing league position and mere weeks to turn it around. Other scenarios include saving your team from relegation and maintaining an unbeaten run. The actual campaign is far more fast paced and puzzle based than it's PSP and PC counterparts – winning matches is based around countering specific threats and smart tactics. There are only seven tactical options (as well as various player roles for each position) compared to the many choices on other platforms. Team talks, youth squads, training facilities and press conferences make no appearance. FM for iOS is simple,
fast and requires smart decisions to get ahead.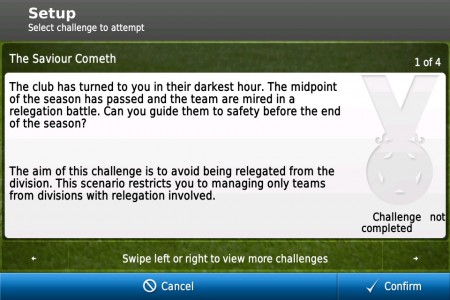 FMH 2012 is by no means for serious FM regulars who enjoy the depth and scale of the other games, but it is an app anyone with an interest in football could get into.  The game can get repetitive but what it does do well is hook new, casual players int0 the FM world.
FMH 2012 for iOS is available on the app store now for £6.99